This page is where we're going to tell you a little about how we put our podcast together.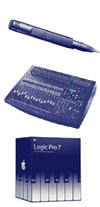 1. Record and mix an MP3 file
You can do this quick'n'dirty style simply by recording through a laptop computer's built-in mic, but we're a bit fussy so we use a more sophisticated setup. We record our chat via a single high-quality condensor mic, and use MOTU's AudioDesk software to record the whole session. (There's usually a mixer and a digital audio interface inbetween the mic and the G5 iMac, to provide better level control plus phantom power for the mic, but that's more complex than a lot of perfectly good podcast setups. All you have to do is be able to record something at reasonable audio quality.) Zog then adds music at the start and the end, plus a few stings, again in AudioDesk, and exports a mono AIFF of the show. He then imports it into iTunes, and converts it to an MP3. (The quality/file size compromise that we like is: mono, 32kHz, 40kbps.)
We also create an 'enhanced' version of each show, aimed at iPod and iTunes 4.9 users, who get extra stuff such as chapters, pictures and hyperlinks. Originally we did this by creating an AAC file (with MPEG-4 audio encoding, hence the .m4a extension) in iTunes, writing an XML file in a text editor, creating a few pics in Photoshop, and then using Apple's Chapter Tool software to bring them all together. But, as of late January 2006, the latest version of Apple's GarageBand has made creating enhanced podcasts much easier - it's pretty much drag-and-drop all the way. (Zog did, in fact, edit show 29 entirely in GarageBand. Full verdict to follow, but initial impressions are that it's an excellent piece of podcast creation software. We did experience one quite worrying glitch in testing - see our GarageBand notes here.)
If you use any music in a podcast, be aware that you will almost certainly be in breach of copyright, as podcasting is so new that rights admin bodies (MCPS/PRS in the UK, ASCAAP, BMI in the US) have not yet caught up. Podcasting is considered different to internet audio streams, which can be cleared. In practice, however, this is unlikely to be a problem for you unless you are involved in a big commercial venture, or you feel guilty about exploiting the work of songwriters and composers without paying them a penny. Which you should. (All music for our podcasts is written in-house, so we can be self-righteous about all this stuff. We use Logic plus a handful of hardware synths, and GarageBand).
We've recently been using an HHB FlashMic DRM85, an all-in-one digital recordign microphone. Here is Zog's assessment, and here's HHB's product page.
2. Post the MP3
We upload the MP3 to www.nxtek.net, who provide our media hosting. We add links from this website to the uploaded file, so people can download the show.
3. Create an RSS feed
An RSS feed is the means by which anyone with podcast receiver software can subscribe to your podcast, and thereby receive your shows automatically whenever you put out a new one - always point people to your RSS feed when you want to refer them to your podcast. It's an HTML-like (XML, in fact) document that lists details of all current and previous installments of your podcast, such as length, location, file size, and date published.
You can hand-code your feed (a bit geeky), or use software such as RSS Buddy to create and update it. Alternatively, if you blog, and post your podcasts as attachments to the blog, you can use feedburner.com to create a valid RSS feed from the blog. It's free, and it works.
The equipment, the software
Sennheiser – microphones, headphones
Spirit by Soundcraft – lovely mixing desks
Apple – Logic Pro music software, GarageBand, iPods, OS X. All lovely.
MOTU – digital audio hardware and software. We use: 828MkII, AudioDesk
Sound Technology – UK distributors of Logic
ProTape – media suppliers.
HHB – pro audio specialists, great guys, suppliers of quality media and pro audio bits. Check out their new FlashMic.
Waldorf – now defunct German synth manufacturer. Zog owns the first Microwave imported in to the UK!
Korg – makers of the very wonderful Wavestation synthesizer (designed by ex-SCI dude and MIDI pioneer Dave Smith)
Yamaha – makers of the PokerDiagram A3000 sampler, plus just about electronic or acoustic instrument you can think of.